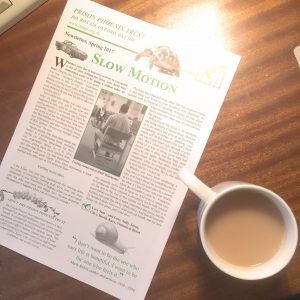 Over 10,000 prisoners, prison staff and supporters receive our newsletter each quarter.
Each issue is underpinned by the theme of spiritual development and peace through the practices of yoga and meditation and is geared towards the general prison population, with its low literacy rate.
Our newsletters consist mainly of prisoners' letters to our staff or volunteers, reprinted with their permission, in which they share the experiences and insights of their spiritual journeys. We also feature practical articles on breathing practices, columns on meditation and spirituality, pieces from former prisoners and pictoral yoga sequences designed for non-readers.
Prisoners tell us that the experiences of other inmates they read about in the newsletters give them hope, help them feel less isolated and encourage them to ask for help in getting started with a practice themselves.
If you would like to join our newsletter mailing list, please sign up below –
You can read our previous newsletters here: